Freeware & Shareware Audio Players

- Shareware
1X-AMP is a professional Audioplayer and Mediaplaye which manages all your MP3, WAV and WMA media files onto you harddisk.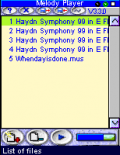 - Freeware
Melody player is a little program for displaying & playing music files created with Harmony or Melody Assistant, as well as MusicXML, Midi, MOD and S3M files.

- Freeware
@MAX Tray Player integrates with taskbar allowing for easy access to all media files on your computer with just a click. Customizable window layout and placement on the taskbar ensure uncluttered desktop view. Moreover, it's FREE!

- Shareware
Slow Down Your MP3s, Learn Solos Fast! Control Tempo, Pitch, Loops and More! mTrax will help you become a better musician by making it easy for you to learn all your favorite songs, solos and riffs; any song, any instrument!

- Freeware
Nexus Radio is a free all-in-one application for all of your music needs. Search and download over 15 million songs directly to your PC, or listen to and record over 11,000+ radio stations free of charge!

- Shareware
Radium - internet radio player that's designed from the ground up to be simple, intuitive, and lightweight. Powerful search, thousands of supported stations (including Sirius/XM and DI.fm/Sky.fm Premium), and the ability to add your own streams

- Freeware
Gino Player is a freeware audio player for Windows and it doesn't need media files to be stored on your PC to play them back! You haven't got your music library yet? It doesn't matter!

- Freeware
The Audio Player for those who have passion with PCs and Music. It uses the BASS API by un4seen.com. It's Main features Are: Excellent Playback Quality, Skins , Equalizer, Playlist, freedb support, Sonique vis plugins, Winamp DSP plugins, File TAGS

- Freeware
QuuxPlayer makes the Windows music experience better than ever before. It's focused on making it easy to find and play your digital music. Use the first Windows audio player to make the listening experience a pleasure instead of an afterthought.

- Freeware
Control your film or your music with the mouse Wheel and the controls keys you chosen. You can read the videos step by step or to advance and move back at high speed and to control the volume or the zoom, by using the mouse wheel.