Fast CD Ripper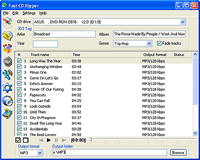 Version: 2.0
Updated on: 25 Mar 2011
Fast CD Ripper - really fast and free cd ripper!
Fast CD Ripper - powerful and easy cd ripper application for converting your audio CD collection to a variety of most popular compressed audio formats (WMA 9, OGG and MP3 are supported) with ID3 Tag v2 support, and to uncompressed audio (WAV PCM format). Fast CD Ripper alows you to rip the following:
CD to WMA 9
CD to MP3
CD to OGG Vorbis
CD to WAV PCM
CD to APE (Monkey's Audio)
CD to FLAC
Main Features:
Handy User's Interface
Easy-to-use interface allows you to rip tracks of your Audio CD just by one click.
High Quality CD Ripping
You can rapidly and naturally transcode Audio CD tracks directly to a variety of audio formats, using jitter correction to compensate reading errors.
Best Audio Codecs Support
Fast CD Ripper uses most modern and fast audio codecs. It internally supports WMA 9 format: WMA 9 with constant bitrate, quality based WMA 9 format with variable bitrate, two-pass bitrate based WMA 9 format with variable bitrate and WMA 9 Lossless format, which allows you to store your digital audio with the highest qualty. For MP3 encoding it uses fast LAME encoder 3.93, for OGG encoding it uses latest Vorbis SDK updates, for APE encoding it uses latest Monkey's Audio SDK.
ID3 Tag v2 Support
Program supports ID3 Tag v2. You can easily convert tracks of your CDs to a variety of compressed audio formats with all most useful tag fields.
CDDB Support
You can download information about Audio CD disc such as Album's and Artist's name, track's names, etc. from Internet database just by clicking on "Get CDDB info..." toolbar button.
Winamp playlists support
Application allows you to create (or append to) Winamp playlists.
Filename generation using ID3 Tag
You can use this feature to generate filename and folder's structure using ID3 Tag information such as artist's and album's name, track's title, genre and track's number.
System Requirements:
CD-ROM drive
Windows 98/NT/2000/ME/XP/Vista/7/8
About 6Mb free hard drive space