Protected Music Converter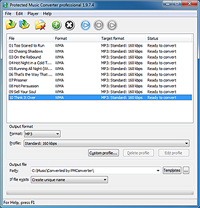 Version: 1.9.7.6
Updated on: 5 Jun 2012
Most protected music files are bought from online music stores (like iTunes, Napster, Rhapsody, etc). This music is protected by DRM (Digital Rights Management) technology. It does not allow you to copy protected music as many times as you want on your favorite portable device or another computer. Protected Music Converter can help to resolve this problem.
Protected Music Converter is the perfect choice to convert your music from WMA format to MP3. It doesn't matter whether the file is DRM-protected or not. The only condition for successful conversion is that your source file should be playable on your computer. In this case, you can convert without any problem.
In addition, changing audio format with this software is quick and easy, thanks to its intuitive interface. All options needed for conversion are located in a prominent and convenient location. There is nothing superfluous that can mislead you. The program is ready for conversion immediately after installation. All you need is to add your file, specify desirable output format settings and start. As you can see, it's very simple. You can find the optimal settings for listening to the converted mp3 files on your portable device (like iPod, iPhone, iPad, mobile phone, laptop or another device). You can also easily define your custom settings and save them for later use.
The program supports batch conversion to MP3. This means that you may add as many source files as you need. Set it up & have a rest while it's converting.
It supports conversion of audio and video formats, like iTunes M4P, audiobooks in M4B, AAC and M4A, video MP4 format, widely known MP3, WAV, OGG and others. And you can choose the output format from the following: WMA, MP3, OGG, WAV.
Thus, Protected Music Converter is your optimal solution to convert your files quickly and easily... especially in the event you want to listen to music in DRM-protected format on a mobile device which doesn't support playing files protected by DRM.
For example, if you have an active Napster subscription, you may convert downloaded WMA files to MP3 for further listening even if your subscription is cancelled.
System Requirements:
Windows NT, Windows 2003 32bit/64bit, Windows XP 32bit/64bit, Windows Vista 32bit/64bit, Windows 7 32bit/64bit, Windows 8 32bit/64bit
256 Mb of free RAM
Windows Media Player 9 or higher
About 15Mb of free hard drive space