YouTube Video Grabber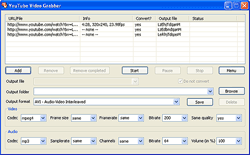 Version: 1.9.9.1
Updated on: 13 Feb 2014
YouTube Video Grabber is a YouTube downloader you can use to save your favorite online videos to your computer in a wide range of different video formats. You can make a hard copy of those videos, transfer them to another computer without internet access, upload them to your mobile phone, iPad, PocketPC, PSP or any other portable device able to play video files. In addition to support of all well known online video services, this software can also try to scan for embedded videos on some general web site. All you need to do is provide the URL of this page. Another feature worth to mentioning here is a plug-in implementation of video downloading engines for each online service. They are kept up to date and available to download with built-in online update service. If you found a site with embedded video which was not recognized by YouTube Video Grabber, you can send a request to us using the built-in request form to get a plug-in update or even new plug-in supporting video downloads from this site.
Update 27 Mar 2019: This app is no longer supported and may not work on modern operating systems. If you need quality, fast and feature-rich YouTube Downloader try this one: MediaHuman YouTube Downloader
Main Features:
Well known online video services support
This software can download and convert online videos from all well known online services like YouTube, Google Video, MySpace, iFilm, Break, PutFile.
Offline video conversion
You can also convert previously downloaded video files to any format supported by YouTube Video Grabber.
Multiple output video formats support
Supports conversion to a wide range of video formats, such as AVI, 3GP, 3GPP, WMV, DivX, Xvid, WMV, MPEG-1, MPEG-2, MPEG-3, MPEG-4.
Audio track extraction
You can save the audio track of any video file or online video to audio file. MP3, WMA, M4A, AAC, RA audio formats of output file are supported.
General internet page embedded video download
Software can search for supported online video on any web page you provide, and then download and convert them to your desired video format.
Extension plug-in modules support
Video tracking is implemented as a set of plug-in modules with online updates. You can also request a new plug-in if you found a web page with video not supported by YouTube Video Grabber.
Full drag and drop support
You can drag files already saved on your computer from Windows Explorer or any other program and drop them to YouTube Video Grabber. Drag&drop of URLs from your internet browser is also supported.
Windows Clipboard support
You can Copy and Paste URLs with online video from Windows Clipboard, auto track for URLs to online video sites, too.
Batch download and conversion
Batch processing is implemented to speed up mass download and conversion of video files.
YouTube auto-login
For those people who have accounts on YouTube, this software offers auto-login to save files which require users to be logged in to access them.
Eligible Price
You can get it all with lifetime technical support and all future updates for only $14.95 US Dollars.
System Requirements:
Windows 98/NT/2000/ME/XP/Vista/Windows 7/Windows 8
About 10 Mb free hard drive space
Internet connection