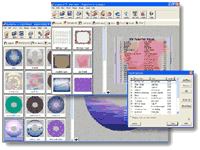 Create your own CD/DVD covers and jewel case cd labels with this new CD Label Maker from Acoustica, the company with the curious idea that software should be easy to use. Let the wizard create cd label for you in a hurry with minimum fuss, or man the controls yourself to get every detail of text, fonts, and images just the way your muse demands. Use the built-in art for holidays, events, and just generally good cd labels, or import your own pictures with the image search feature and thumbnail views. Automatically import your song information from Acoustica MP3 CD Burner, WinAmp, Nero, Easy CD Creator, or virtually any other popular playlist file. Print on plain old printer paper or stock sticker labels and jewel case templates. This is the easiest CD Label Maker ever.
download cd label maker | order cd label maker
Main feature of Acoustica CD Label Maker:
Easily print CD/DVD labels and jewel case covers!
Automatically import your play lists into visually appealing arrangements.
Easily fit track lists up to 200 tracks on a single CD!
Impressive spiral and curved text support
Wizards help create your label and jewel cases
Supports many different stock labels and jewel case templates.
Import custom art or your own photographs